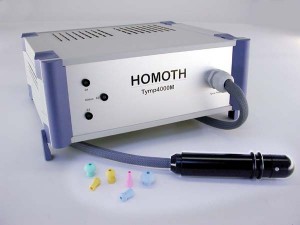 Tympanometer – TYMP 4000 is a stationary device, designed for the impedancy tests of hearing. This device performs precise and fast ipsilateral and (optionally) contralateral examination. The device can be used in clinical applications and private practice. Because the measurements will take just two seconds, the device is well suited to the use with children and susceptible patients. The test is objective and does not require the active participation of the patient. The use of the device is simple and intuitive. The study begins with the placement of the probe in the ear canal and runs automatically. Three-color LED in the handle of the probe indicates the correctness of the measuring process. TYMP 4000 has a built-in quiet digital recording equipment which allows the display of the measurement in real time. Communication with the PC occurs via a USB 2.0 interface.
Tympanometr is available in two versions:
Tympani 4000 – stand-alone, equipped with a large LCD display and thermal printer.
Tympani 4000M – module controlled from a PC (via USB 2.0)
Download tympanometers catalog.
Specifications:
System: microprocessor control
Standards: EN 60601-1/1-1/1-2 and MPG
Tons of measurement: 226Hz, 85 dB SPL
Pressure range: +200 to -400 daPa
Pressure change: 300 daPa / s
Measuring time: 2s (susceptibility)
Tony reflexes: 500, 1000, 2000 and 4000 Hz at 85, 95 and 105 dB HL
The sequence of tone: automatic
Diagnosis of reflexes: automatic
Reflex threshold: adjustable by software
The study of reflexes: ipsilateral and contrlateral (optional)
Test reflex decay: set manually
Pressure calibration: automatic at startup
Status indicator: 3-color LED in the probe, symbols on the display
Changing sides: automatic or manual
Air pump: very quiet piston pump
Dimensions: 335×340×155 mm
Power supply: ~ 230V 60VA
Accessories:
1x probe with cable
1x set of ear plugs
1x probe holder
1x handset DT 48 A
1x CD with software (for TYMP 4000M olny)
System requirements:
Pentium 1GHz
250 MB RAM
USB 2.0
Windows XP
Download Tympanometer TYMP 4000 and Tympanometer TYMP 4000M catalog.
More information about our products available here.
If you'd like more information or have any questions please feel free contact us using this e-mail address: info@videomed.eu or by calling +48-74-84-38-109 (Monday – Friday, from 8:00 till 16:00 GMT+1).
For more information about the products click the equipment below: