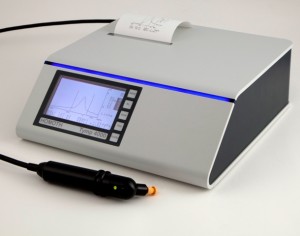 Rhinomanometer RHINO 4000 is used to test the air flow in the upper pieces on the nasal passages. Measurement can be carried out in two ways: through nasal olives or an optional mask on the nose and mouth. These methods work well both in private practice and in clinical applications. The device is controlled from a PC.
Calculations: flow, pressure, rates and drag coefficients are presented in real time. Thanks to the nasal olives, people with facial hair, long hair and children fearing masks can be tested without any problem. During the measurement, the intensity of respiration is controlled by two leads. Use of a microprocessor controlling the measurement makes it very easy to use. The average of the five flow curve is calculated and graphed as a curve of flow. In clinical applications, the drag coefficient is calculated. The measurement results are stored and archived on the PC.
Download tympanometers and rhinomanometers catalog. 
Available modes:
RHINO 4000M Blue Line – a device controlled by a PC computer / Laptop
RHINO 4000 Blue Line – a stationary device with a large display and thermal printer. Can also be controlled from a PC / Laptop
Specification:
Method: Flow of the front cutter nasal passages
Standards: EN 60601 – 1 / 1-1 / 1-2 / MPG
Air flow: 0 – 900 ml/s at inhalation and exhalation
Differences pressure: 0 – 50 daPa
Control: 2 measuring lines on the display
Averaging 5 Flow curves
Pressure calibration: automatic, after running
Presentation of results: on the graph and numerically
Accessories:
12x nasal olives
2x flow probe
2 sets of wires
foot switch
probe holder
mask for the nose and mouth (optional)
Download Rhinomanometer RHINO 4000 and Rhinomanometer RHINO 4000M catalog.
More information about our products available here.
If you'd like more information or have any questions please feel free contact us using this e-mail address: info@videomed.eu or by calling +48-74-84-38-109 (Monday – Friday, from 8:00 till 16:00 GMT+1).
For more information about the products click the equipment below: