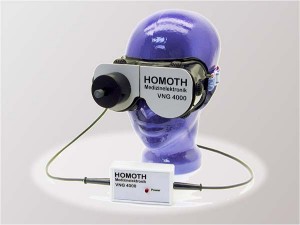 VNG 4000 implements all the requirements for the latest methods of diagnosis of vestibular. It was designed based on the latest achievements of computer technology. Using the device is extremely comfortable, especially for unskilled personnel. The patient's eye movement is recorded by means of a small, lightweight camera and processed on to a graph in real time. The measurement is always dual-channel (horizontal and vertical). Artifacts are automatically suppressed. VNG mask is used to study in a complete dark and with only one eye covered. Measurements in real time allows you to track the progress of the test directly on a computer screen. Evaluation can be done automatically by the computer. In addition, there is an option of manual evaluation and automatic correction. All the measurement's results as well as the curves and the data can be printed.
Download diagnosis of balance catalog.
Specification:
System requirements: Pentium 800MHz min, Win 98/Me/2000/XP
System: 2 masks
Test method: measurement of 2 channels (vertical movements, horizontal) with registration in real time and artifact suppression
Tests: spontaneous, caloric, positional
Image resolution: 0.1° for 704×288 pixels
Signal frequency: 50Hz
Infrared (back light): 950nm (in accordance with DIN EN 60825-1)
Focus adjustment: with one hand using the handle
Measuring time: fixed 60, 90, 120, 150s
Rating: manual or automatic with the possibility of correction: the direction of nystagmus, evaluation of the climax phase, the number of nystagmuses, the speed of phase
Representation of results: nystagmus curve – max length of 3min, the function of strengthening the weak nystagmus, butterfly diagram, tabulation
Download VNG 4000 catalog.
More information about our products available here.
If you'd like more information or have any questions please feel free contact us using this e-mail address: info@videomed.eu or by calling +48-74-84-38-109 (Monday – Friday, from 8:00 till 16:00 GMT+1).
For more information about the products click the equipment below: