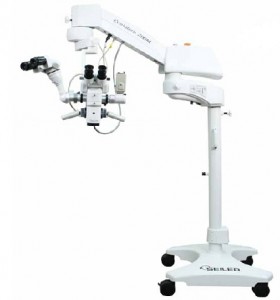 Double halogen lighting with a power of 150W guaranties uninterrupted work even if one light stops working – all it takes is to remove the fiber from one input port and put it in to another. Coaxial illumination is achieved by a 7mm diameter fiber. You can adjust the brightness using knob that is located on the light-source panel, which is always within the operator's reach.
Microscope arm has a maximum reach of 1120mm and is equipped with friction brakes (adjustable by knobs). Microscope's head can be adjusted front-back and right-left. It's also equipped with a apochromatic optics. This microscope provides the option do attach a DLSR camera; light source is equipped with power input for the camera. It also provides an adjustable vision defect correction + / – 5 diopters, so you don't have to use your regular glasses.
Evolution Zoom offers continuous magnification in the range of 3x-20x adjustable using buttons on the microscope's head or via a footswitch.
This microscope can be used in various types of surgeries in ENT, arthroscopy, neurology, plastic surgery and ophthalmology. Ideal for surgical centers. It's equipped with a base floor with 4 wheels (2 lockable, optionally 4), guaranteeing stability and the ability to easily move the microscope.
Specifications:
Head adjustment – 0-180º
Lens – ƒ:200-400mm
Zoom 3x-20x continuous with 250mm lens
Turn rage of the pantomographic arm – 340º
XY positioning mechanism (optional)
LED control panel display
Apochromatic optics
Xenon (optional)
More information about out products available here.
If you'd like more information or have any questions please feel free contact us using this e-mail address: info@videomed.eu or by calling +48-74-84-38-109 (Monday – Friday, from 8:00 till 16:00 GMT+1).