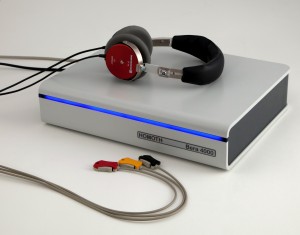 ABR BERA 4000 is an audiometer for auditory evoked potentials of the brainstem. BERA 4000 is a very advanced device giving the results in real time.
BERA 4000 uses the latest processors, so making changes in diagnostic requirements can be achieved by simply updating to the newest version of the software. This software is very easy to use. In addition, it is possible to create custom measurement programs and an EXPERT-MODE allows you to create and change settings during the measurement sessions, so you can tailor the session to the patient's needs and situation. During the test, you can measure 16 curves and save them in the cache. Analysis / evaluation of results can be made at a later time. Display of the curves and device control is done using a PC / Laptop. Software is available in many languages. BERA 4000 is available in standard or modern antibacterial Blue Line housing.
Download otoacustin emission catalog.
Specifications:
System: Microprocessor control with impedance measurement
Standards: EN 60601-1/1-1/1-2 and AGERA committee guidelines
Insulation: galvanic separation of the electrodes
Stimulus: 1 Sizzle 50-500 us; 2 sine (in preparation)
Polarity: positive, negative and alternating
Intensity: 0-110 dB HL
Ratio of 1-50 per sec. in increments of 0.1
Masking: 0-80 dB white noise
Measurement method: 1 channel (ipsi / contra)
EEG amplifier: 80 dB / impedance at the input of > 48 MW, automatic or manual gain control
Pickups: A / D 12 bit / 100 kHz
Average: max. 10.000 movements
Analysis time: 10 ms (early potentials)
Artifacts: the elimination of real-time by time and amplitude of growth
Filters:

100-150-200-300 Hz
1-2-3-8 kHz
software filters
50Hz network filters

Presentation of results:

Curves diagrams 8x right and 8x left
Latency diagram
Direct comparison of the right and left side of the diagram

Dimensions: width: 29cm, depth: 25cm and height: 7.5 cm
Weight: 1.8 kg
Measuring cable length: 275cm + 60cm cable electrode
Power: 15 W
Accessories:
1x DT 48A handset
1x measuring cable with 3 clip electrodes red – yellow – black
1x cable set
2x bags with standard electrodes (30)
1x external power supply
1x software CD
1x manual
Download BERA 4000 catalog.
Audiometr ABR BERA 4000
Bera 4000 GR
More information about our products available here.
If you'd like more information or have any questions please feel free contact us using this e-mail address: info@videomed.eu or by calling +48-74-84-38-109 (Monday – Friday, from 8:00 till 16:00 GMT+1).
For more information about the products click the equipment below: