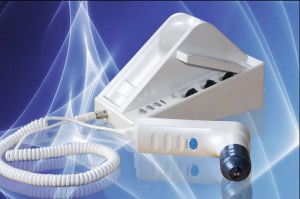 OTO-1000 otoscopes are modern LED videootoscopes. The new construction of the optics system allows to deliver a revolutionary device for the ear, nose, eyes, and skin clinical diagnosis. The focus regulation function allows the user to view different objects. The excellent quality of the image facilitates the diagnosis.
OTO-1000 otoscopes work with a PC, it is possible to save the images and also to record a short video from the the performed patient`s examination. The data base allows to compare the previously saved images and recorded videos with the new ones, which helps to evaluate the effectiveness of the treatment.
OTO-1000 otoscopes may be used to:
• laryngological tests of the ear and nose
• dermatological changes tests
• opthalmic tests
• dental tests
The advantages of the videootoscopes:
• easy to operate
• light weight and small dimensions
• USB and/or composite output
• live image and recording functions
• excellent price
Available speculas:
• E1 – 3 mm ear speculum
• E2 – 4,5 mm ear speculum
• E3 – 6 mm ear speculum
• S1 – dermatological-opthalmic aadapter
• W1 – ear speculum with the working window
• N1 – nose speculum
More information about our products available here.
If you'd like more information or have any questions please feel free contact us using this e-mail address: info@videomed.eu or by calling +48-74-84-38-109 (Monday – Friday, from 8:00 till 16:00 GMT+1).
Download video otoscope catalog.
For more information about the products click the equipment below: