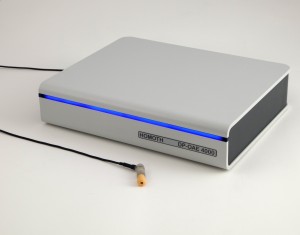 T-OAE 4000 is a device used to record noise-indued otoacoustic emissions. For T-OAE measurement data is classified according to the properties of static and dynamic signal. The result is passed on to an expert system through an interface in the form of vectors of parameters. The expert system vectors of parameters are compared with previously stored examples. Specialists performed and evaluated more than 10,000 measurements of otoacoustic emissions. Within a few seconds the actual measurement data are automatically compared and evaluated with the previously memorized data. Also components of SOAE, T-OAE and artifacts are indicated. Analysis module consists of an artificial neural network supplemented by fuzzy logic. The system provides objective results of the hearing examination, which are comparable with the diagnosis of specialists. As with the classic measurement of OAE all important curves and data are presented on the screen and can be printed out.
Download otoacustin emission catalog.
Specifications:
System requirements: Pentium 800MHz, Win 98/Me/2000/XP
Standards: EN 60601-1/1-1/1-2 / MPG / NUB
Stimulus: quad crash (3poz. / 1neg.) speed of 20ms
Intensity: approximately 80dB automatic gain control
Poll: miniature ventilation, controlled by the FFT
Converter: 12Bit / 100KHz
Amplifier: 80dB automatic gain control
Survey: manual adjustment 16, 32, 64, 128, 256, 512 glitches
Artifacts: automatic detection and elimination of artifacts
Presentation of results: interdependent window with two time-domain measurements, the spontaneous emission window in the time domain, the emission's maximum, the spectrum of the real-time stimulation, the emission spectrum / noise spectrum, the frequency ratio until the SNR, stability, duplication, the number of artifacts and correct response, automatic analysis of the system (definitely positive, positive, probably positive, negative, definitely negative)
Dimensions / weight: 290×250×75mm / 1.8 kg
Cable: 2m
Power consumption: 15W
Accessories:
miniature probe
set of 30 caps in 5 sizes
AC
USB 2.0 cable
CD with software
manual
Otoacoustic emission T-OAE 4000
Otoacoustic emission T-OAE 4000 Blue Line
Download T-OAE 4000 catalog.
More information about our products available here.
If you'd like more information or have any questions please feel free contact us using this e-mail address: info@videomed.eu or by calling +48-74-84-38-109 (Monday – Friday, from 8:00 till 16:00 GMT+1).
For more information about the products click the equipment below: