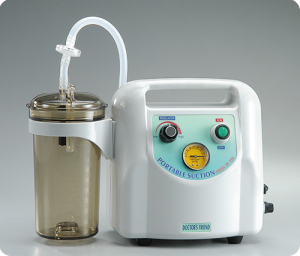 Medical suction unit DF-750 is portable and small in size. Whole vacuum pump body is made of plastic, steel and aluminum alloy. All the elements are design with precision and reliability in mind. Every part goes through a rigorous testing in order to ensure the highest quality. The DF-750 has a dual membrane pomp which provides power and high performance while remaining quiet during operation. The included bottle is made of a special material resistant to high temperature, high pressure, impact and is intended to be sterilized in autoclaves. The housing is made of ABS plastic giving it an elegant look, and also, making it easy to maintain. DF-750 includes antibacterial filters of a closed type.
Download DF-750 information brochure.
Specifications:
Power: 25W
Maximum flow: 20l/min
Maximal pressure: 68 ~ 70 cm/Hg (93kPa)
Bottle volume: 1l
Noise level: <45 dB
More information about our products available here.
If you'd like more information or have any questions please feel free contact us using this e-mail address: info@videomed.eu or by calling +48-74-84-38-109 (Monday – Friday, from 8:00 till 16:00 GMT+1).