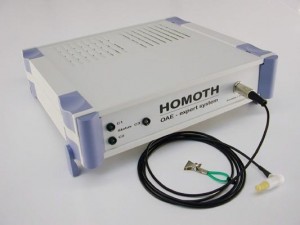 Otoacoustic emissions DP-OAE 4000 is an audiometer recording otoacoustic emissions of products of non-linear distortions. Fast measurement time adapted to all age groups of patients. Due to objective and accurate diagnosis it is well suited for testing newborns. Screening and clinical measurements. Software in several languages. Requires connection to a PC.
Download otoacustin emission catalog.
DP-OAE is an objective and quick method of measurement, suitable for patients of any age, especially as a screening test in young children and infants. Allows you to recognize even small hearing loss characteristic of the initial phase of deafness. DP-OAE 4000 covers a wide range of DP OAE tests, from screening tests in pediatrics (4 frequencies) to clinical trials (10 frequencies). Two types of measurements DP1 = 2F1-F2 and DP2 = 2F2-F1 and averaging in time or in the range enables the device to have a very broad diagnostic capabilities.
"Hearing-Loss Mode" enables the study of predetermined (by a physician or audiologist) frequencies by reducing the sound level from 70 dB to 0.5 dB, at 0.5 dB step. The device is able to determine hearing loss using an advanced algorithm. This method is ideal in the case where it is not possible to carry out the tone test. The device also features a "best-fit-test".
The results of diagnosis are shown in the following forms: DP-Diagram, Function Input / Output, arm descending slope of the curve diagram and hearing loss diagram. A special 3D graph can display all evaluated data at the same time. This graph can be rotated in all directions for easy analysis. All data is stored on the hard drive of your computer. Other diagnostic modules from Homoth, when connected to a computer, can use the same patients database.
Specifications:
System requirements: Pentium 800MHz min, Win 98/Me/2000/XP
Standards: EN 60601-1/1-1/1-2 / MPG / NUB
Stimulation from 562Hz to 9,843 kHz
Level: 0.5 dB SPL for 70dBSPL steps of 0.5 dB
Poll: miniature with ventilation, semi-automatic cleaning
Averaging: all ranges may be averaged over time or spectrum
Presentation of results: DP graph of signal and noise, and their spectrum belonging to the input / output function – graph of hearing loss in HPL, alternative methods of DP1 = 2F1-F2 or DP2 = 2F2-F1
Dimensions / weight: 290×250×75mm / 1.8 kg
Cable: 2m
Power consumption: 15W
Accessories:
miniature probe
set of 30 caps in 5 sizes
AC
USB 2.0 cable
CD with software
manual
Download DP-OAE 4000 catalog.
Otoacoustic emission DP-OAE 4000

Otoacoustic emission DP-OAE 4000 Blue Line
More information about our products available here.
If you'd like more information or have any questions please feel free contact us using this e-mail address: info@videomed.eu or by calling +48-74-84-38-109 (Monday – Friday, from 8:00 till 16:00 GMT+1).
For more information about the products click the equipment below: