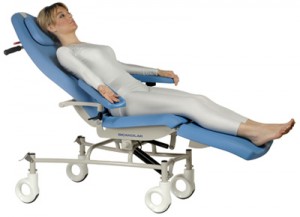 Blood collection and dialysis chair – 855 is used for blood collection, transfusions or intravenous medication. It can also transport the patient in a secure and convenient way. It has a mechanical control – levers behind the back. Adjustment is done using a gas spring and include: backrest, Trendelenburg position and the position of the armrests. Trendelenburg position and backrest adjustment is integrated with legs section.
The height of the headrest can be adjusted to the required level in order to ensure patient comfort. U-shaped armrests automatically adapt to the position of the chair. They use a ball joint which allows to set the patient's arm to the required position (adjustable height and angle). Armrests can be tilted in the vertical plane in order to make it easy for the patient to sit on the chair.
The seat has a seamless, antibacterial upholstery, resistant to disinfectants. It's made of polyurethane and ensures hygiene and long life. The metal parts are coated with a powder-based paint.
Large anti-static wheels allow for high maneuverability and provide a high level of comfort during transport. Rear wheels have a brake system and free angular movement when turning. Fixed wheels placed in front and strong handles on the back provide easy maneuverability and directional stability.
Download chairs for blood collection catalog.
Specification:
Seat height: 570 mm ± 20 mm
Length: 1850 mm ± 20 mm
Seat: 530 × 540 mm ± 20 mm
Stool: 510 × 440 mm ± 20 mm
Back: 530 × 890 mm ± 20 mm
Armrest: 120 × 450 mm
Headrest: 285 × 250 mm
Load capacity: 150 kg
Backrest angle: 20° ~ 90°
The angle of the footrest adjustment: 0° ~ 90°
Trendelenburg position 14°
Weight of chair without accessories: 63.5 kg
Available colors: green, blue, gray
Download blood collection and dialysis chair – 855 catalog.
More information about our products available here.
If you'd like more information or have any questions please feel free contact us using this e-mail address: info@videomed.eu or by calling +48-74-84-38-109 (Monday – Friday, from 8:00 till 16:00 GMT+1).