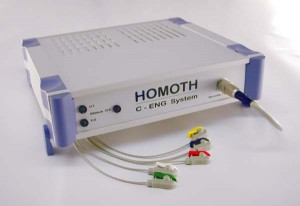 Electronystagmograph ENG 4000 is a 2-channel electronystagmograph, used for nystagmus test, which is an objective sign of vestibular disorders. Nystagmus is recorded by electrodes placed on the forehead and the temples of the subject, connected to a device controlled by a computer. Automatic calibration adjusts the measurement's parameters individually for each patient. The measurement results are displayed in real time on a computer screen. Evaluation of the measurements is performed automatically by the software, it is possible to assess the results manual or correct the automatic evaluation.
Download diagnosis of balance catalog.
Specifications:
System requirements: Windows XP / USB 2.0

Standards: EN 60601-1 / 1-1 / 1-2 / MPG

Test method: 2 channels in real time record the level / plumb;

1. calibration

2. spontaneous nystagmus

3. caloric test

4. eyes tracking (optional)

Time constants: elected, DC, 0.2s, 2s, 5s

Gain: 80dB

Common signal suppression: > 130dB

Signal resolution: 12bit

Scanning frequency channel: 50Hz (10Hz optional)

Calibration evaluation: choice: manual or automatic with adjustment possibility:

1. nystagmus direction

2. phase culmination phase evaluation

3. slow phase velocity evaluation

Presentation of results:

1. nystagmus curves – any length

2. small nystagmus magnification function

3. butterfly diagram

4. the tabular form
Accessories:
preamplifier

leads

a set of electrodes (50)

connection cable

calibration strip

AC power unit

power cord

CD with the software
Download Electronystagmograph – ENG 4000 catalog.
More information about our products available here.
If you'd like more information or have any questions please feel free contact us using this e-mail address: info@videomed.eu or by calling +48-74-84-38-109 (Monday – Friday, from 8:00 till 16:00 GMT+1).
For more information about the products click the equipment below: