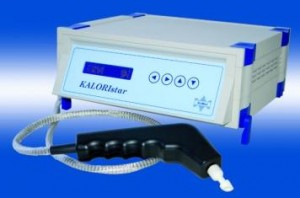 KALORIstar Arctic is an air calorisator with active cooling, enabling the stimulation using cold air, even on hot days! The device can lower the temperature to 7° C below the ambient temperature, the temperature range is from 20° C to 47° C, the temperature accuracy is + / – 0,5 ° C. Modern and simple to use calorisator is controlled by a microprocessor, a clear display and simple, intuitive menu. The control handle is easy-to-use. This calorisator can be controlled using a PC and integrates with the eVNG software package. Energy efficient – the device automatically goes into standby mode after 5 min. of inactivity. On request the period can be changed.
Download diagnosis of balance catalog.
Specifications:
Probe cable length is approximately 1.6 m
Volume of the device is about 62 dB
Power switch and all connection jacks are located on the rear panel
Air flow: 5 l / min
Dimensions: 115×307×257mm
Weight: 3.5 kg
Download eVNG System and Arctic catalog.
More information about our products available here.
If you'd like more information or have any questions please feel free contact us using this e-mail address: info@videomed.eu or by calling +48-74-84-38-109 (Monday – Friday, from 8:00 till 16:00 GMT+1).
For more information about the products click the equipment below: