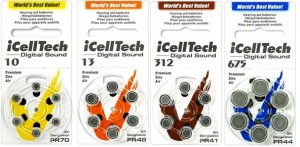 Zinc-air iCella Tech batteries hearing aids are well known for several years. Their characteristic feature is the very high efficiency. The standard battery type 675 has a capacity comparable to an ordinary R6 battery (AA battery). The concentration of energy in the zinc-air battery is several times larger than in a traditional battery.
We'd like to offer you batteries from a Korean company iCella Tech. The engineers of the company have developed new types of materials, which allowed to improve battery performance. They improved diaphragm technology with Teflon (PTFE) and created a unique design that reduces the internal resistance of the battery. They also used an additional layer of highly diffusive paper. It enables a quick start after activation and guarantees prolonged operation.
Innovative technological solutions made it possible to extend the hearing aids working time on a single battery. The design of the battery is optimized for use in digital hearing aids and implantable hearing.
WARNING – For maximum working time, once the protective cover is removed, please ensure to remove any traces of glue – for example wiping the battery with a tissue. Once a battery is activated it will undergo a spontaneous discharge, regardless if the battery is in use or not. Re-application of the protective cover does not stop this process. The batteries can not be recharged from an external power source, this may cause explosion or damage the hearing aid.
More information about our products available here.
If you'd like more information or have any questions please feel free contact us using this e-mail address: info@videomed.eu or by calling +48-74-84-38-109 (Monday – Friday, from 8:00 till 16:00 GMT+1).
For more information about the products click the equipment below: